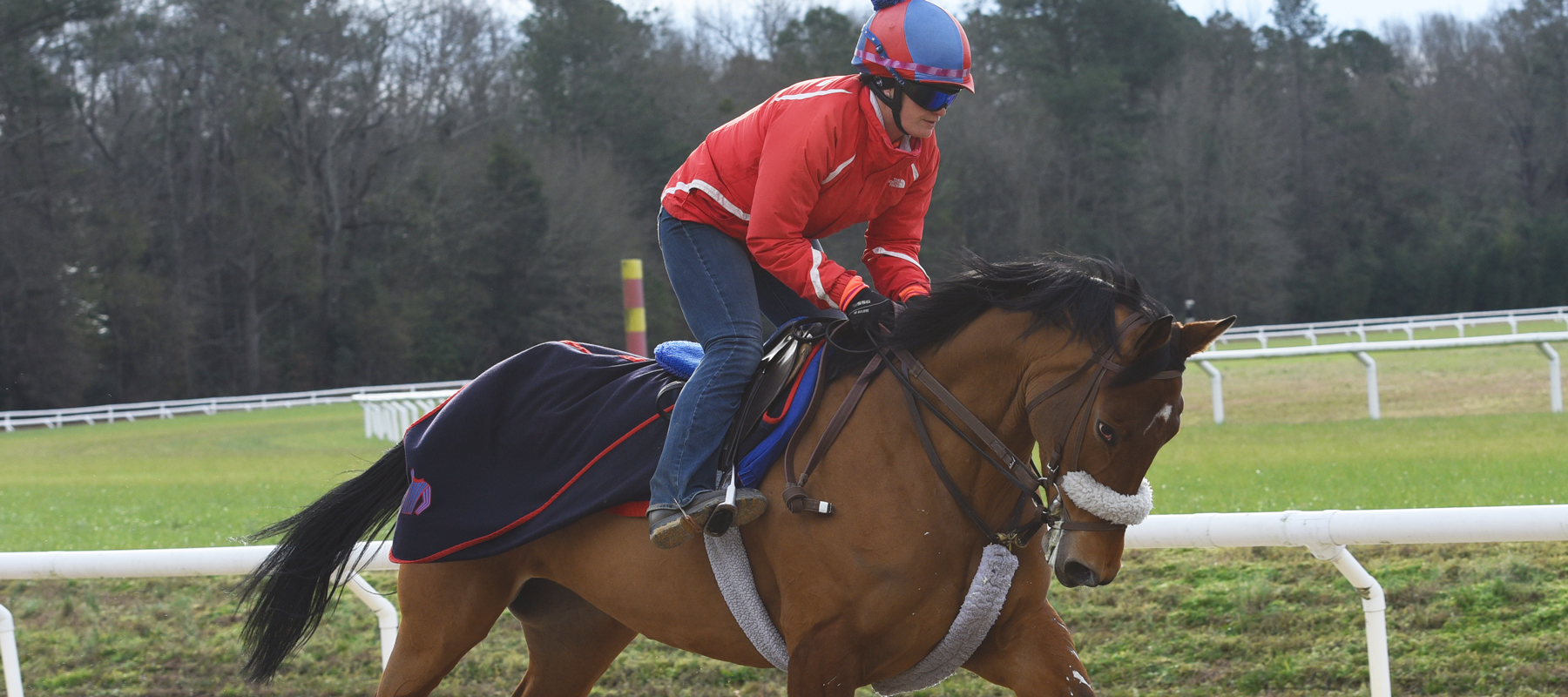 Top trainers and racing stables make Camden Training Center their winter home.
"Ruffian's trainer, Frank Whitely, first introduced me to Camden Training Center. Some great horses spent time here — Jazil, Damascus, Tom Rolfe, Forego, Coastal, Revedere. We trained Dahaar here for a couple of seasons. He was a tough horse to train, and the environment really helped.

"The Camden weather is perfect for horses; they need a change of seasons, a chance to grow their winter coats. Florida is just too hot. The ground is fabulous for horses' feet, so we can go a long time without putting shoes on. "The ambiance is perfect too. If you can't get a horse fit here, you can't do it anywhere. "Truth is, the whole place is perfect. You can't beat it."
"Camden Training Center has an old-fashioned feel that works well for me and my horses. It's quieter and less stressful than most places. The large acreage and layout of the fields, tracks and barns mean we spend more time on the horses. Every horse is unique, so having a wide range of training options is great.

"The center and the town are very special to me. I've been coming here for over 20 years and now it is my home. For many of us, this attachment translates to a great environment for teaching, growing and producing athletes and winners! We had Regal Engagement, winner of the Black Eyed Susan, and Cosmonaut, a multiple Grade 3 winner and now the earner of over a million dollars. Right now, our niche seems to be developing the horse that wins his share at allowance levels and does so consistently for a few years. Many horses come back to us every year for a break and reconditioning. The 'big' horse will come; it's not a matter of if but when. This is a game of patience, though ironically we race 2 yr olds. Camden epitomizes patience."
"I trained horses here for 15 years, first with Will Farish of Lanes End Farms and now with my own racing stable. I think it's one of the nicest facilities for young horses, with so many training options and good weather. With a change of seasons, the horses shed out better and look healthier.

"The fact that this is one of the greatest winter spots has been proven over the years; a lot of the best horses had their early training here. I've had the privilege of working with several of them, including Secret Status ('00 Kentucky Oaks winner), Lil's Lad ('98 Fountain of Youth winner), Grasshopper (2nd to Street Sense in '07 Travers Stakes), and Tomisue's Delight (multiple Grade 1 winner).
"We've trained some outstanding horses at the Camden Training Center since we started training here nearly a decade ago. Elysium Fields, who spent his yearling year with us, broke his maiden at Gulfstream in January '08 and placed second in the Fountain of Youth Stakes in February '08. He was a delightful horse to work with — big, handsome and eager to please — and it's great to see how he's blossomed from his early training. Action This Day, another of our yearling trainees, won the 2003 Breeders Cup as a 2-year-old and the Eclipse Award that same year.

"Camden Training Center is an ideal spot for starting young horses. It's got everything we need and wonderful variety of trails and track. The management works hard to make us happy and keep the center up to date."
"My family has been part of the Camden Training Center for over 50 years. Not only is it home, I grew up here, but I believe CTC is the best training center in the East Coast. The climate, the racetrack and the overall environment all cater to horses and horsemanship. It's run to the hilt."
"My family has been part of the Camden Training Center for over 50 years. Not only is it home, I grew up here, but I believe CTC is the best training center in the East Coast. The climate, the racetrack and the overall environment all cater to horses and horsemanship. It's run to the hilt."
"CTC offers plenty of training options and variety to keep horses interested. There's plenty of turnout, the track is beautiful and the farm atmosphere is relaxed and natural. Paul Anderson does a great job maintaining a beautiful facility."
"I'm really impressed with the whole setup here; it's a nice, relaxed environment for a young horse. The weather's great, and there's great variety or turnout paddocks and tracks. With a difficult horse, you can always find a place to train."