Unsurpassed Variety of Training Options
1 mile, clay-based dirt track
7/8 mile turf course
1/2 mile secondary track
5/8 mile gallop path through the woods
Figure-8 polo field
4-stall starting gate
Trail access to Springdale Race Course
Outstanding Facilities and Service
10 barns, each housing 14-32 horses
Spacious turnout paddocks
Ample storage rooms
7 day/week facility and starting gate attendant
Exceptional Farm Manager – Paul Anderson
Excerpt of a story published by the Chronicle-Independent in 2015
– Andrea Walker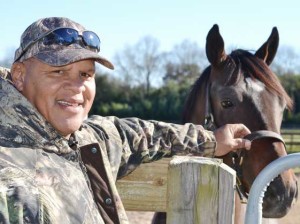 Anderson is a Camden native who started at the Camden Training Center in 1985 as a Groom for T.J. Kelly from New York. Back then, Anderson was responsible for mucking out the stables, feeding and cleaning the horses, and being aware of the horses' overall health. Anderson told me one of the earliest and most important lessons he learned was how to "know" a horse, its routine and behavior. With this knowledge he said, if you ever saw anything unusual, like a horse laying down which didn't usually lie down, you acted quickly to make sure the horse was okay. ("Ahhhh," I thought. Just like a dog. All are unique and "speak" through their actions.)
Now, 30 years later, Paul Anderson is the track superintendent at the training center. His crew of five is responsible for the overall maintenance of the 360-acre facility with 10 barns which can each house 14-32 horses. That's a lot of horses!
"Maintenance" covers everything from making sure no nails are sticking out of a rail to ensuring the track has just enough cushion for the horses. That's a wide area of responsibility, and sometimes the maintenance challenges require creativity.
Like dogs, I learned some horses like to chew — specifically chew the wood on the stall door. Anderson and his crew custom fit covers to protect the wood, and more importantly, protect the horses. Anderson also custom designed latches at the Camden Training Center so no horse or person would get cut by a screw or nail and at the same time ensured the gates held. He is a man who cares about the details. A friend of mine was so impressed by the latches and Anderson's caring nature, she said I absolutely must interview him for the newspaper. I'm glad she made the suggestion.
Anderson is a gentle giant and a servant who knows details matter. He or someone from his crew is at the Camden Training Center every day. And this father of three and grandfather of nine even goes by after church on Sundays to check things out. He wants to be sure everyone using the track, and all horses, are safe and well cared for. Anderson calls the Camden Training Center a "trusted facility." It's clear Anderson values the trust they have in him. "It's my job but it's my personal responsibility too." We are fortunate to have men and women like Paul Anderson in our community. If you know him, tell him "Job well done!" If you meet him, take a few minutes to get to know him. You'll be glad you did.